How Do Your Students Learn Best?
Make differentiating instruction easier with a Kidzmet® membership.


Just $15.00 per year.
A Different Kind of Class Picture

Kidzmet's Classroom Account helps teachers, tutors and coaches get a clearer picture of how personality types, multiple intelligence preferences and predominant learning style shape the ways both individual students and classes most enjoy learning.
Once students complete their preference profiles in the Computer lab, you'll have access to:

a class roll up to help you discover, design or tweak lesson plans that play to the strengths of your current class;



detailed Student Snapshots help you more effectively assist struggling students;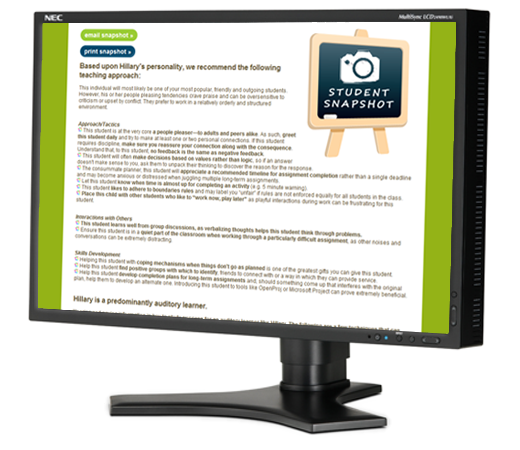 email student snapshots to parents of struggling students in one-click from your dashboard so that they know how to transform their kids' homework headaches into study success;



All for $15.00 per year.

Transform your teaching and experience what it's like to earn favorite teacher status with students and parents. Start using Kidzmet® to differentiate instruction in your classroom today.