A Parent's Playbook for Learning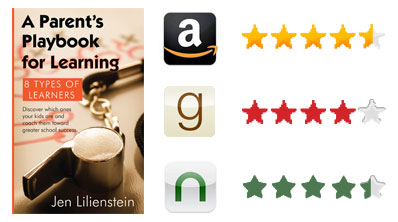 Get the award-winning book that parents and teachers are raving about around the world! This is a detailed, practical guide to help parents (and teachers) understand how different personality types learn best, and includes a short personality quiz. The techniques parents and teachers learn in this book series highlight specific, research-backed, actionable strategies amassed from nearly 100 reference texts with respect to:
how to create a learning environment that allows their kids to excel and develop confidence in their abilities,
how to support and encourage their kids' education in ways that are best for him, and
how to teach kids the strategies that help them each play to their individual learning strengths.
The book reveals how each of the eight personality types naturally gets organized, gets motivated, approaches new concepts, learns in groups, takes notes and files knowledge, tackles homework and test prep, and handles success and failure.
Paperback - $14.95 + S&H (Available as an eBook as part of our Playbook Kit)
order now
Rave Reviews