November 15, 2011 in Interpersonal Intelligence, Naturistic Intelligence, Personal Mission Statement, Uncategorized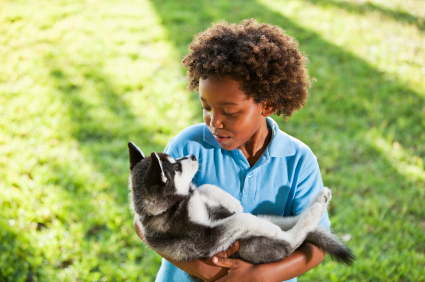 Whether your child has had close attachments to childhood pets or an obsession with Animal Planet, there is a career for every kind of animal lover. Below are the top 11 careers for animal lovers.
Pet Sitter: If you are looking to start your career working with animals, consider becoming a pet sitter. Caring for a wide variety of pets can help you gauge how comfortable you are with different animals. Plus, many pet owners would rather pay someone to take care of their pets in their own homes as opposed to taking their dog or cat to a kennel.
Animal Trainer: Everyone wants a well-behaved pet, so consider entering the field of animal training. Animal trainers can work with individual families to train dogs, work with police forces to train drug detection dogs or enter the big leagues of training animals for television and movies. Lassie didn't learn those commands by herself!
Kennel Manager: When families go on vacation or individuals go on business trips, someone needs to take care of their pets. Often you can't wrangle a friend of family member to check up on your dog or cat. If you want to care for animals while their owners are away, consider working or opening a kennel.
Dog Walker: As Americans continue to balance ever-increasing work hours with spending time with loved ones, walking the family dog is never a top priority. If you love exercising and fresh air, consider pursuing work as a dog walker.
Pet Groomer: As the hairstylists and manicurists to man's best friend, pet groomers help maintain a pet's coat, nails and teeth. Some pet groomers at high end salons can earn as much as $100,000 a year.
Wildlife Rehabilitator: A wildlife rehabilitator takes in and cares for injured or sick wild animals. The animals are then released into the wild or taken to long-term facilities. If you are nurturing, consider a career as a wildlife rehabilitator.
Nonprofit/Advocacy Work: Maybe you aren't interested in taking care of someone's pet. Maybe you want to work at an animal shelter. Or make sure your state is cracking down on puppy mills. Or make sure all the pets in your area are spayed or neutered. Research what local nonprofits are in your area. Also reach out to national organizations like the ASPCA or the Humane Society. For more advice on how kids can get involved in or even be instrumental in beginning this kind of advocacy in your community, be sure to check out our Make it Your Mission series for kids.
Lobbyist: If you are interested in fighting for animal rights on the state or federal level, consider becoming a lobbyist. Most lobbyists are lawyers, so if you are interested in fighting for individual animals or animal rights groups research going to law school.

Veterinarian: If you want to be a doctor for animals, consider becoming a veterinarian. To become a veterinarian, you must go through four years of pre-med classes and then four years of veterinarian school. For certain specialties in veterinary medicine, a one-year internship or two to three year residency program is required.
Veterinary Technician: If you are interested in caring for animals in a veterinary office, consider becoming a veterinary technician—the nurse of the animal world. To become a veterinary technician, you must graduate from a two year associates degree veterinary technician program.
Jessica Reedy is a journalism student currently working as an intern for National Public Radio in Washington, D.C.